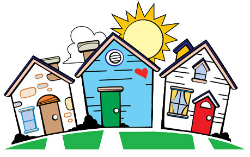 We all know that when selling your home it can be emotional. You have so many memories of the home that are priceless. You are so excited for the next chapter in a new home, but you can't imagine letting go of your current one. It has so much sentimental value. The problem is the memories the home has offered you, won't be seen to potential buyers.
It's always good to be a good neighbor, but helping sell their home while yours is on the market? That is a little too nice. When you overprice your homes that is exactly what you are doing. Of course you need to look into what you need from the sale of your home, but the rest will truly be affected by the other homes around you.
Your realtor should do a CMA (Comparative Market Analysis) of your neighborhood to get an idea of what sells in the neighborhood, the correct price range, and how the other homes in the area compare to yours. Of course no home will be exactly the same, but it will really help in coming to the correct price. The CMA will compare the features of your home, bedrooms, room size, bathrooms, acres, etc. to the other homes. You and your realtor will negotiate what the correct price will be and then on the market it shall go!
If you overprice your home a ton of things can go wrong. People may not look at your home, you can lose credibility, your house can go stale, or it may not appraise at that amount. If the price is set too high buyers might not consider looking at it because it won't show up in their search results or they know what houses in that area price for and yours is too high. If that happens then your home can go stale, resulting in no showings. People will then begin to think something could be wrong with the house.
Another bad scenario could be you find buyers but they appraise the home, and it appraises for less than what it is listed for. Those buyers then have evidence on their side and want the sale price reduced before they buy. Once this happens then other potential buyers could get wind of this too.
This can all happen when there are other properties in your neighborhood that are on the market too. If there is a big sale price gap and the analysis proves the homes to be very similar then of course buyers will want to pay less for a very similar home. These are just some of the reasons you don't want to overprice your home. Make sure you have a well-educated Realtor and take their advice when listing your home.