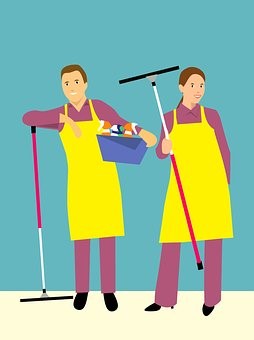 When you're a busy parent trying to keep a house clean for showings, success is more about establishing good, consistent cleaning habits than it is about elbow grease, spit and polish. You never know when someone might want to drop by for a showing, so keeping the place pristinely clean is essential. But that's a challenge that can be overwhelming for busy parents on the go who have to work all day and fight their way home through traffic, only to clean again for yet another showing. You can make life a lot easier by establishing a set routine that simplifies cleaning when things get chaotic. Here are a few tips to help you work around those challenges.
Keep it within reach
Most homeowners would agree that keeping a house clean depends to a very large extent on having the right tools and cleaning materials on hand. But there's more to it than that if you're trying to keep it clean for potential buyers. It's also necessary to know exactly where cleaning materials are for those last-minute showings. To that end, make sure that each bathroom is well-stocked with cleaning fluids, cloths, scrub brushes and spray bottles so it's not necessary to go rummaging around looking for something when there's no time to waste. And it'll be a lot easier to clean when you see the kids have left a dried clump of toothpaste in the sink or splattered mouthwash on the mirror, especially if you're expecting a motivated buyer for a showing.
Hands full
Make it a rule throughout the house that no one leaves a room empty-handed. Wherever you go, make sure you and the kids always emerge with something that can be thrown away, stored away, cleaned or repaired. This should make it a lot easier to keep the kids' rooms tidy since kids are often the ones responsible for allowing messes to accumulate (e.g., dirty dishes and glasses from the kitchen, dirty clothes left on the floor). This is another good way of establishing good cleaning habits, an especially important objective when it comes to teaching your children about cleaning and personal responsibility.
Clean on the go
Some of the most successful food service companies in the world follow a "clean-as-you-go" modus operandi. It's a good habit to follow whether you're trying to sell a house or not. Like other cleaning strategies, this one is a matter of developing and maintaining good habits. Cleaning on the go leaves nothing to worry about later, though it can be difficult to keep this one going because it's tempting to put off cleaning and picking up until later, especially if one is tired and wanting to relax after a long day. Try to persuade your children to clean on the go. For example, having kids put shoes, coats, gloves and other apparel away as soon as they get home is an excellent place to begin.
Call a pro
Stagers are experienced decorators who know just what features to emphasize. If time just doesn't allow you to handle the entire staging process, consider engaging a professional stager to help make your home look as appealing as possible. The average cost of a professional home staging is $922, but it can be well worth the cost.
Staging a home for sale is always difficult. The need to clean, declutter and maintain an orderly home throughout the process may seem impossible, especially if you're a busy parent. Establishing consistent cleaning habits can make it easier to keep up with the need and encourage your kids to get involved.
Blog Post Courtesy of Kristen Louis
Image Courtesy of Pixabay.com.